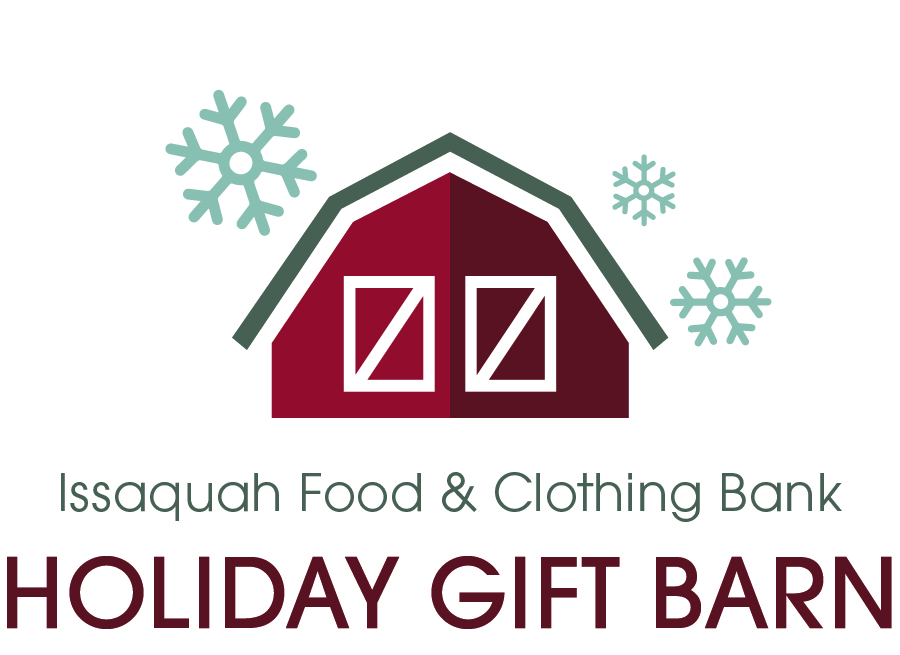 Holiday Gift Barn
Holiday Gift Barn is one of the biggest and most exciting events at the Issaquah Food & Clothing Bank.
Holiday Gift Barn serves 1,500 children in the Issaquah School District each year. We turn Pickering Barn into a huge toy store where parents can choose gifts and stocking stuffers for each of their children. We also have a wrapping station and child care so the gifts can stay a surprise until Christmas morning.
Donors
Of course, one of the most important pieces of the Holiday Gift Barn are the donors who provide the toys and gifts! We need thousands of gifts to make sure every child has that perfect gift under the tree on Christmas morning.
Interested in donating to the Holiday Gift Barn? Register today or check out our donor toolkit for all the details.
Questions about donating? Email Bonnie or call her at 425-392-4123 x14.
Volunteers
We need your help at the Holiday Gift Barn! With nearly 100 volunteers needed each day, this event would not be possible without volunteer help. There are a variety of volunteer options, from set up and decorating, to organizing gifts, or helping families wrap gifts. Most volunteer opportunities are for people 16 years and older, but check the registration information for limited opportunities for younger volunteers.
Volunteer registration opens in early November, so check back here for the registration link.
Volunteer questions? Email Megan or call her at 425-392-4123 x10.
Clients
Do you need some extra help this Christmas season? We would love to see you at the Holiday Gift Barn! Holiday Gift Barn is a true shopping experience, but all the brand new toys and gifts are free. Pickering Barn is turned into a giant toy store where each family will be able to shop for the same number of gifts for each child and wrap their gifts after shopping. Child care will be available if needed.
After registering, each eligible family will be assigned a time to come shop at the Holiday Gift Barn. You may come later than your assigned time (within the open hours), but not earlier.
In order to be eligible for the Holiday Gift Barn, your family must live in one of the following zip codes: 98027, 98029, 98075 and 98059. If you are not a current Issaquah Food & Clothing Bank client, you may be asked to provide proof of address and proof that your children live in your household.
Registration will be open Nov. 1-30. Late registrations may not be accepted.
Questions about registration or your shopping time? Email Erin or call her at 425-392-4123 x16.