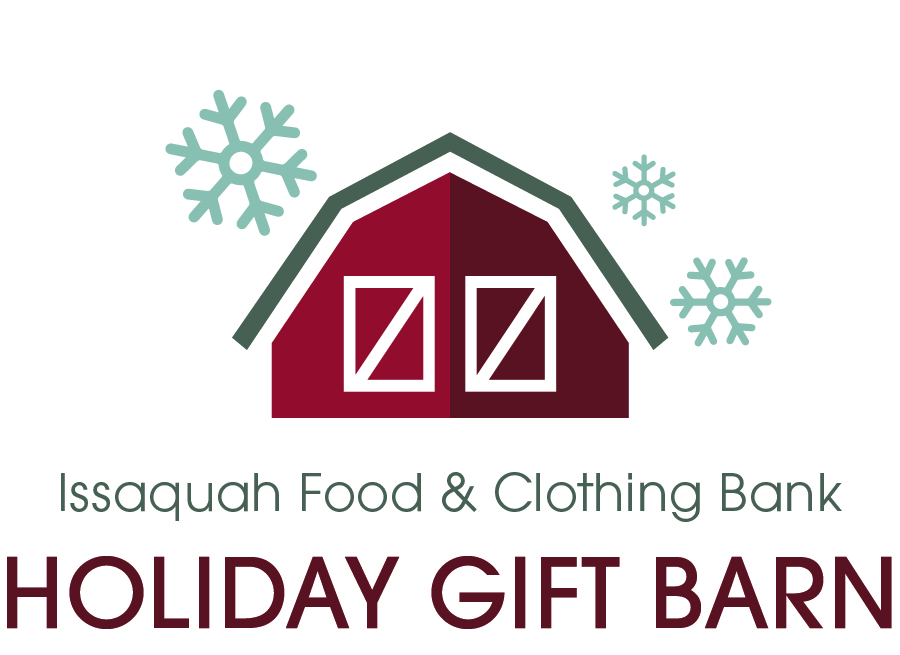 Holiday Gift Barn
Thanks to thousands of donors and almost 400 volunteers, over 1,800 children received gifts for the holidays this year.
Holiday Gift Barn is one of the biggest and most exciting annual events at the Issaquah Food & Clothing Bank.
Each year Holiday Gift Barn serves children in the Issaquah School District. We turn Pickering Barn into a huge toy store where parents can choose gifts and stocking stuffers for each of their children. We also have a wrapping station and child care so the gifts can stay a surprise until Christmas morning.
To see the amazing transformation of Pickering Barn into the Holiday Gift Barn, check out this time lapse video!
Watch our website in Fall 2019 for news about our next Holiday Gift Barn.
Donors
Thank you to everyone who donated this year to help make sure that every child has a perfect gift under the tree on Christmas morning. Families shopped at the Pickering Barn December 5th and 6th, then we transformed our clothing bank into a mini holiday gift shop December 10th through 13th. If you still have gifts to donate, they may be brought to the Issaquah Food & Clothing Bank Monday through Friday 8:00 a.m. to 4:00 p.m.
Interested in donating to the Holiday Gift Barn next year? Check out our donor toolkit for all the details.
Questions about donating? Email Bonnie or call her at 425-392-4123 x14.
Volunteers
It took almost 400 volunteers to make this event run smoothly this year and we are so appreciative of this fabulous community effort! This event would not be possible without volunteer help. If you're interested in volunteering for Holiday Gift Barn in 2019, there are a variety of volunteer options, from set up and decorating, to organizing gifts, or helping families wrap gifts. Most volunteer opportunities are for people 16 years and older, but check the registration information on our website next November for details on all shifts as well as limited opportunities for younger volunteers.
Volunteer questions? Email Megan or call her at 425-392-4123 x10.
Clients
Do you need extra help during the holiday season?
Registration for the 2019 Holiday Gift Barn will open in Fall 2019 for families residing in the Issaquah School District. For those living outside the Issaquah School District, but within our clothing bank service area, holiday shopping will be available for parents at the Issaquah Food & Clothing Bank the second week of December 2019.