DONATE FUNDS
We'll use every nickel for good.
When we are running low of essential needs we use your donations to ensure we can best meet our clients' needs. Funds also greatly support our Emergency Assistance Program. We are proud to be able to help people stay in their homes and to help keep their homes warm, especially in the cold season.

Your tax-deductible gift will help us keep our doors open, especially now when so many more people are coming to us. Please consider making a financial contribution today.
Donate Food
Current Food and Clothing Bank Needs
food needs
Canned Tuna / Chicken / Fish / Other Proteins
Progresso Soups / Healthy Soups (i.e. Healthy Choice)
Pasta Sauce
Tomato Sauce / Tomato Paste
Ramen Noodles
Macaroni & Cheese
Snacks for children's lunches
Cooking oil (small - 24 oz)
Boost / Ensure
Broth / Stock
Breakfast Cereal
Canned pasta meals
Canned fruit
Flour
Sugar
Nuts
Evaporated milk
Spaghetti pasta (NOT whole wheat)
Gluten free foods
clothing/personal care NEEDS
Diapers sizes 4-6
Baby Wipes
Toiletries (shampoo, soap, toothpaste, shaving supplies)
Laundry Soap
Dish Soap
Cleaning Products
Camping Equipment/Outdoor Gear
Lightly Used Blankets & Bedding
Tarps
FOOD ITEMS THAT IFCB IS FULLY STOCKED WITH
Kidney Beans
Green Beans
Canned Pumpkin
Drop off your food donations anytime during our business hours (M-F from 8AM to 4PM or Saturday from 10AM to 2PM).
Use the side alley door for your food donations (see red arrow).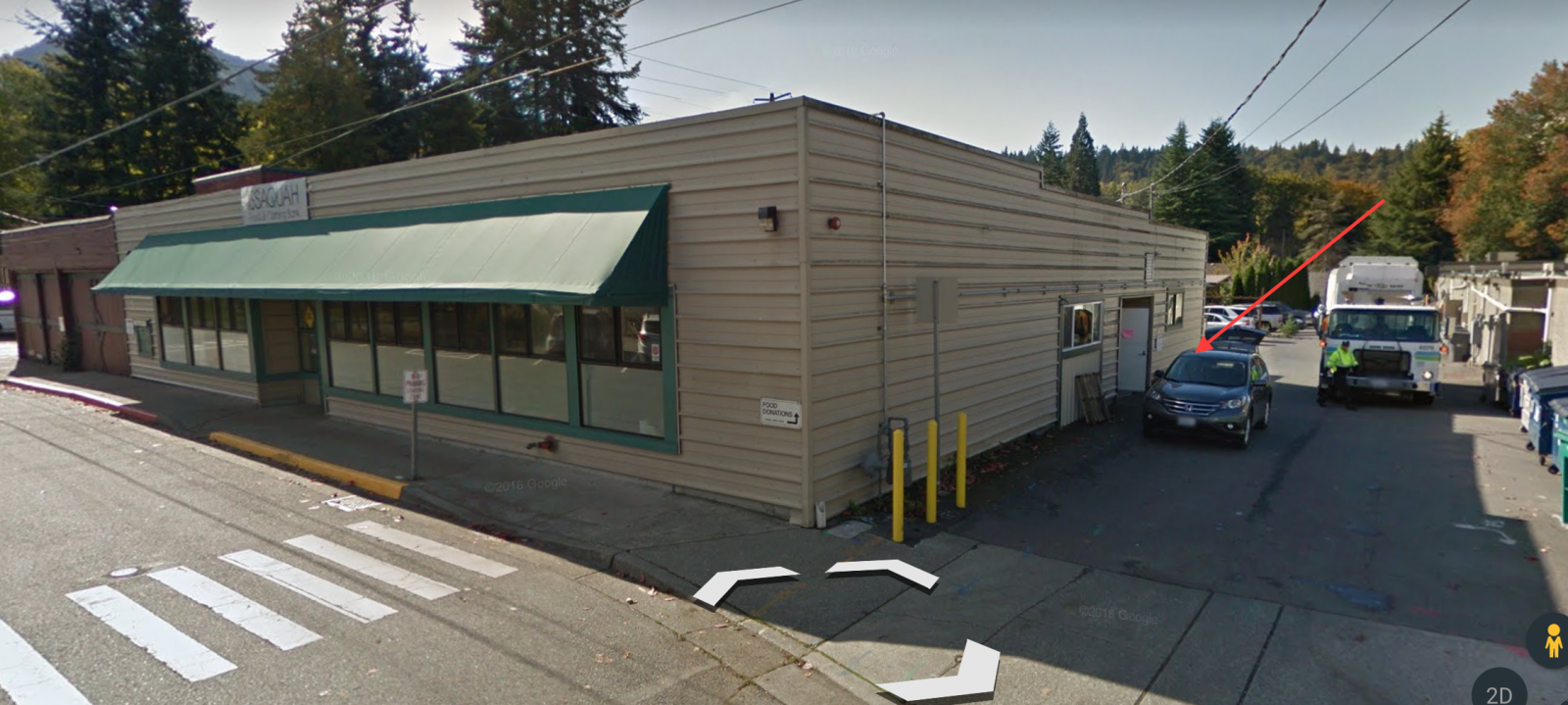 Donate Clothing
Consider us when you're doing your seasonal clearing out of clothing you no longer wear. We accept lightly used clothing and shoes for men, women, children and babies.
If you have usable clothing to spare, especially for children and infants, please bring it to 179 1st Avenue SE in Issaquah. We have a 24 hour drop box at the front of our building.
For families challenged by tough times, new clothing is low on the priority list, but appropriate clothing increases confidence, helps with job acquisition, weather appropriateness and self-dignity.
Families that are homeless need cover: something as simple as a tarp and a bungee cord can keep people out of the rain.
You should know that if we can't use it we re-donate to our partners at the Salvation Army.
Donate Stocks
You can also support the Issaquah Food and Clothing Bank by donating stock. Your generous gift is tax deductible.
Simply fill out this form and use the following information for Section B (Account# 88104705-1-1, DTC# 0057)
Please contact Steve Bennett (425-391-9160) at Edward Jones if you have any questions.
Donation Receipt Form
Donation Receipt Form (Word | PDF )