Donate Funds
We'll use every nickel for good.
When we are running low on essential items, we use your donations to ensure we can best meet our clients' needs. Funds also greatly support our Emergency Assistance Program. We are proud to be able to help people stay in their homes and to help keep their homes warm, especially in the cold season.

Your tax-deductible gift will help us keep our doors open, especially now when so many more people are coming to us. Please consider making a financial contribution today.
Donate Food and Clothing
Current Food and Clothing Bank Needs
Check out our Amazon wishlist to ship high-need items right to us!
FOOD NEEDS
Healthy Breakfast Cereal
Pancake mix
Infant formula (Similac Advanced & Kirkland Brand)
Baby food
Canned tuna / chicken / fish / other proteins
Peanut butter and jelly
Pasta Roni / Rice a Roni
Hamburger Helper
Canned pasta meals
Mayonaise
Tomato Ketchup
Canned fruit and vegetables
Progresso Soups / Healthy Soups (i.e. Healthy Choice)
Pasta Sauce
Mac & Cheese
Spaghetti/Plan pasta
Instant oatmeal packets
Gluten and dairy-free foods
Ramen Noodles
Cooking oil (small - 24 oz)
Boost / Ensure
Broth / Stock
Homegrown produce is always welcome
CLOTHING/PERSONAL CARE NEEDS
Gas cards (ie. Shell, Safeway)
Diapers sizes 4-6
Baby Wipes
Toiletries (shampoo, soap, toothpaste, shaving supplies)
Laundry Soap
Dish Soap
Cleaning Products
Camping Equipment/Outdoor Gear
Clean Blankets & Bedding
New warm socks and underwear (including thermals)
Hats and gloves
Tarps
Feminine Hygiene (Tampons and Pads)
Paper lunch bags
FOOD ITEMS THAT IFCB IS FULLY STOCKED WITH
**Per the Washington State Department of Agriculture (WSDA), we cannot accept meat donations because of our inability to verify proper handling of this high-risk food.**
You can rop off Drop off your food donations anytime during our business hours (Monday through Friday, 8am - 4pm - OR - Saturday, 9am - 1pm).
For food donations, use the side alley door (see red arrow below).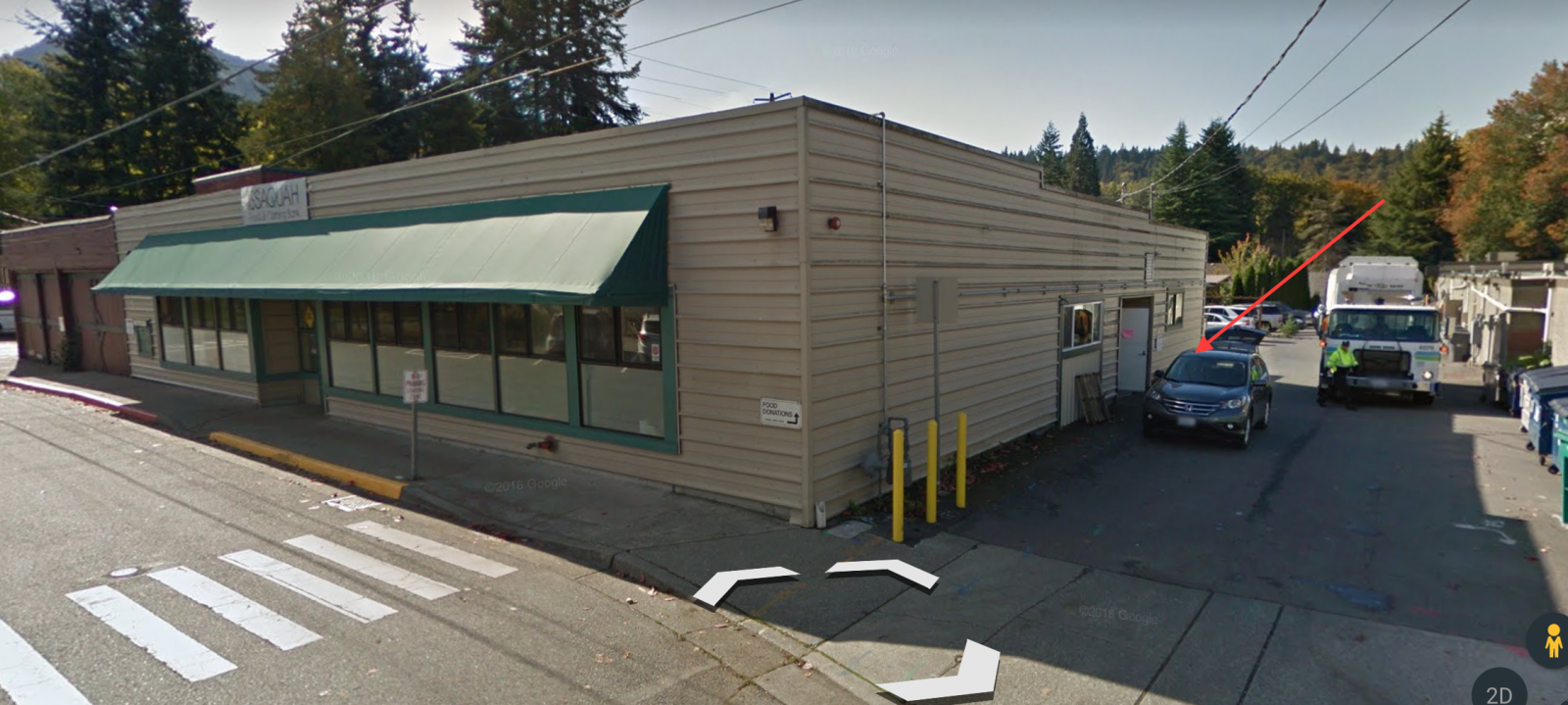 Donation Guidelines
Guidelines for Food Bank Donations:
We accept and distribute unopened and non-expired non-perishable foods and fresh produce. We are not able to accept donations of highly perishable foods, such as dairy items, or any frozen food.
Guidelines for Clothing Bank Donations:
If you have usable clothing to spare, especially for children and infants, please place it in a bag and bring it to us at 179 1st Avenue SE in Issaquah. (We have a 24 hour drop box at the front of our building!)
Clean (no pet hair, smells, dust, etc.)
Not stained, ripped, worn, or broken
No off-season clothing or household items (we don't have space to store it)
No furniture (we don't have space)
No electronic items or appliances
No used socks or underwear
No knives
You should know that if we can't use it or do not have the capacity, we re-donate to our partners at the Goodwill. Feel free to ask about this when you drop off your donation!
Donate Stocks
You can also support the Issaquah Food & Clothing Bank by donating stock. Your generous gift may be tax deductible.
To make a contribution to our brokerage account, please give these instructions to your broker and contact the Issaquah Food & Clothing Bank at stock@issaquahfoodbank.org. It's important you contact us about your intent to donate securities so we can confirm the transfer and provide you with an appropriate donation receipt and because the broker doesn't not share you info with us
Vanguard DTC (stock transfer) Instructions:
 DTC # 0062

 Receiving DTC Brokerage Firm: Vanguard

 Account Name/Registration: Issaquah Food and Clothing Bank

 Account Number: 15863559

Send Issaquah Food and Clothing Bank an email (stock@issaquahfoodbank.org) letting us know you are planning to donate.
Donation Receipt Form
Donation Receipt Form ( Word | PDF )