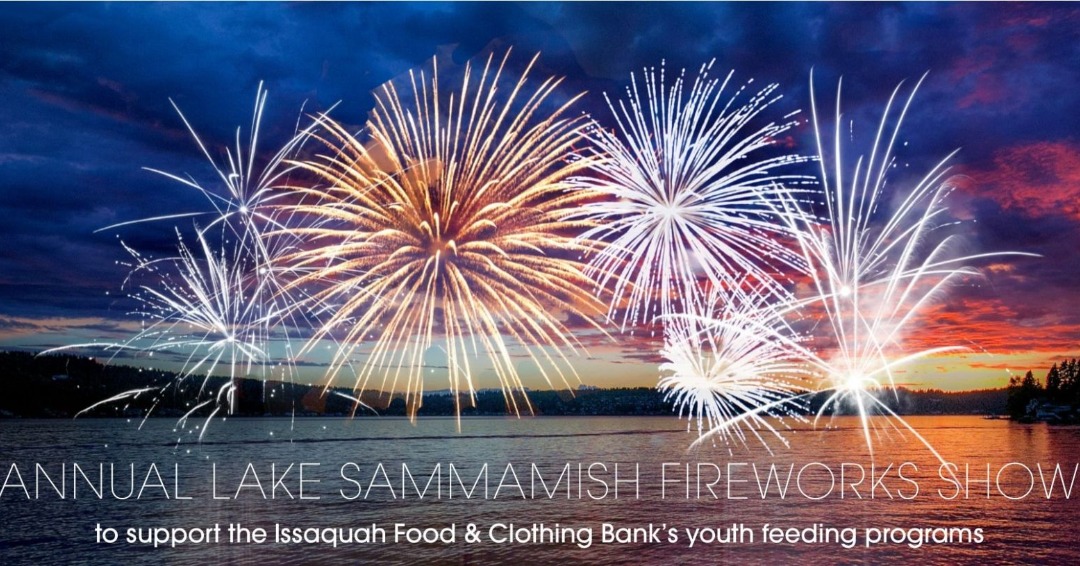 What is it? It's easy! You help fund our youth feeding programs by giving today, then
celebrate with an amazing fireworks display over south Lake Sammamish on Saturday, July 2nd!
Our Youth Feeding Programs
The pandemic has had a harsh impact on thousands in our community, but did you know that food insecurity for children in King County jumped by 54% in 2020? Our youth feeding programs such as Summer Lunch, Lunch for the Break, and Power Packs help to support families with children and teens by providing free breakfast, lunch, and snack foods that are both nutritious and kid-friendly throughout the year. Last year, our youth feeding programs helped over 1,900 families in our community, many using multiple or all of our programs to help feed their children and keep their fridges and pantries stocked with healthy options. A $100 gift can provide a child with breakfast, lunch, and snack foods for 4 weeks.
Last year, our community blew us away by raising $56,000 for our youth feeding programs during this fundraiser, thanks to a generous match by event sponsors, Kritsonis & Lindor of Windermere Real Estate. This year, we're excited to bring back the fireworks display, which is a favorite tradition of thousands here on the Eastside. YOU can help kids in our 110 square mile food bank service area get the nutrition they need.
To kickstart the campaign, Kritsonis & Lindor will match all donations of $100 or greater up to $25,000.
Double your impact and help us reach our goal of raising $50,000!
---
Fireworks Show Details
It's BACK! Yes, after two years of not being able to share in this favorite tradition, the amazing fireworks display over south Lake Sammamish is returning! Mark your calendars for a SATURDAY show this year!
Saturday, July 2nd at 10:00 p.m.
This way, you can enjoy the late night show without having to get up early the next morning!
The fireworks will be launched from a barge off the western shore of Lake Sammamish about halfway between Vasa Park and Lake Sammamish State Park. Any spot along the southern part of the lake should be a great viewing point!
We have heard that Lake Sammamish State Park will shut its entrance gates at 10:00 p.m., but anyone inside after that will still be able to exit after the show. We strongly recommend checking with park staff to confirm.
We have also heard that the Lake Sammamish boat launch will be kept open until after the show, so boats coming in from the lake will be able to leave. Again, you should check with park staff to confirm.
Please join Kritsonis & Lindor and the Issaquah Food & Clothing Bank to support fundraising efforts for our youth feeding programs, then celebrate with us from your favorite vantage point for the fireworks display on July 2nd.
---
Our Event Sponsors
John Kritsonis and Karl Lindor of Kritsonis & Lindor at Windermere Real Estate have been funding this event since 2015 with a total of $228,070 raised to support the Issaquah Food & Clothing Bank. In addition to funding equipment purchases and our youth feeding programs over the years, they have helped us expand our reach and have been committed advocates to our mission.
Thank you Kritsonis & Lindor team!
---
Questions
For more information or questions, please contact Bonnie DeCaro-Monahan at bonnie@issaquahfoodbank.org.