Bob Gray
Issaquah Food & Clothing Bank Founder
March 17, 1936 to May 31, 2020
---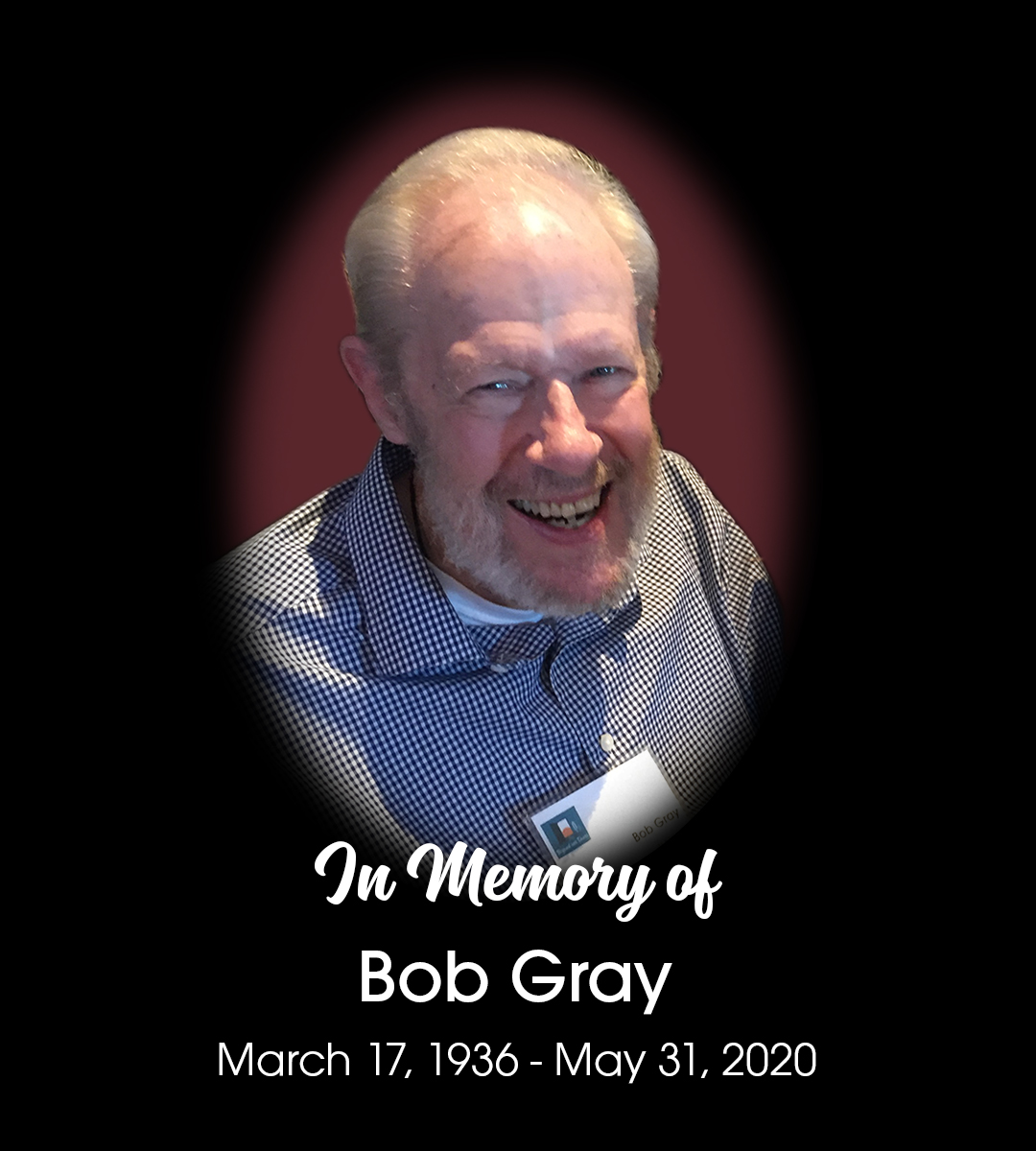 Bob Gray was born on March 17, 1936 in Edwardsville, Illinois. Despite having lived in different states and regions throughout his youth and college years, he found his way to Eastside King County and in 1966, made Issaquah his home. More than just making it his home, he played a significant role in evolving Issaquah into the amazing, community-focused city that has become the home to approximately 40,000 folks today.
"With the bias toward need for community, I thought that we needed to find ways to bring people together." –Bob Gray.
Leading the formation of and being a minister at the first Presbyterian Church in the city was just the start of Bob's work in Issaquah. He utilized the Issaquah Theater for Forum Theater and started a Forum Bookstore which he envisioned "to be kind of a drop-in center, where people could sit and have a cup of coffee and talk", but turning into much more – "We had people who would come in and talk about grief problems. We had lists of services that were available in the Seattle-Bellevue area – and some, moving out this way – to refer people. The volunteers would meet together and enjoy that contact with each other."
Through his work with the Presbyterian Church, Forum Theater, and Forum Bookstore, Bob was simultaneously gaining a full understanding of the social service needs in his community with the help and support of many volunteers; community members who valued and believed in his leadership and passion for helping others and bringing people together. He had a hand in allocating city funds back into the community, starting the Eastside Sexual Assault Center for Children and developing Issaquah Valley Community Services.
In 1970, Boeing had laid off 35,000 employees, leaving people in the area without jobs and "no way to make money." This was the catalyst for the formation of the Issaquah Food & Clothing Bank, founded in 1971. "We used a portable classroom at St. Joseph Catholic Church. We advertised, and people brought food. Anyone who needed food could come in any day and take what they need." In addition to the food bank, Bob helped start the financial aid program in Issaquah—a simple initiative with the funding from five churches and a checkbook—that, along with the food and clothing bank, developed into Issaquah Valley Community Services, now known as the Issaquah Food & Clothing Bank.
In 2017, Bob Gray graced the Issaquah Food & Clothing Bank volunteer and staff team with his presence. After not visiting or being a part of our organization for more than 20 years, he popped in for a tour. His presence had an energy that warmed and inspired the room. His words were powerful and engaging. And his tears of joy and pride showed his vulnerability, compassion and deep empathy for others. Bob wandered from room to room of our service facility in awe and amazement by the changes and growth. When he spoke to a room of 20 volunteers and staff, we all knew that things looked different but the mission he created in 1971 was still deeply engrained in the walls, the service, the values and the hearts of everyone associated with today's food bank. Bob Gray told us that day "that if people say they need food, they need food. They shouldn't have to beg for it; it should be a right."
Bob Gray's legacy and passion lives on in the work the Issaquah Food & Clothing Bank does today. He started this nonprofit because of his deep love for others and his personal commitment to improve the lives of those who might be struggling. His passion for loving and feeding people was contagious. It is with great sadness that our beloved founder, Bob Gray, passed away May 31, 2020. His memory, leadership, heart, and legacy are deeply ingrained in the Issaquah Food & Clothing Bank and our community. His work has made life better for tens of thousands of Eastside neighbors. We will miss his powerful words, leadership, smile, and the engaging twinkle in his eye. In his honor we recognize July 31st each year as Bob Gray Day and this year we celebrate the 50th anniversary of this important work that he started so long ago!
Rest in peace dear friend!
---
Watch Bob Gray's touching visit to the Issaquah Food & Clothing Bank